Top 3 Reasons to Use Virtual Staging
By Goda Stevens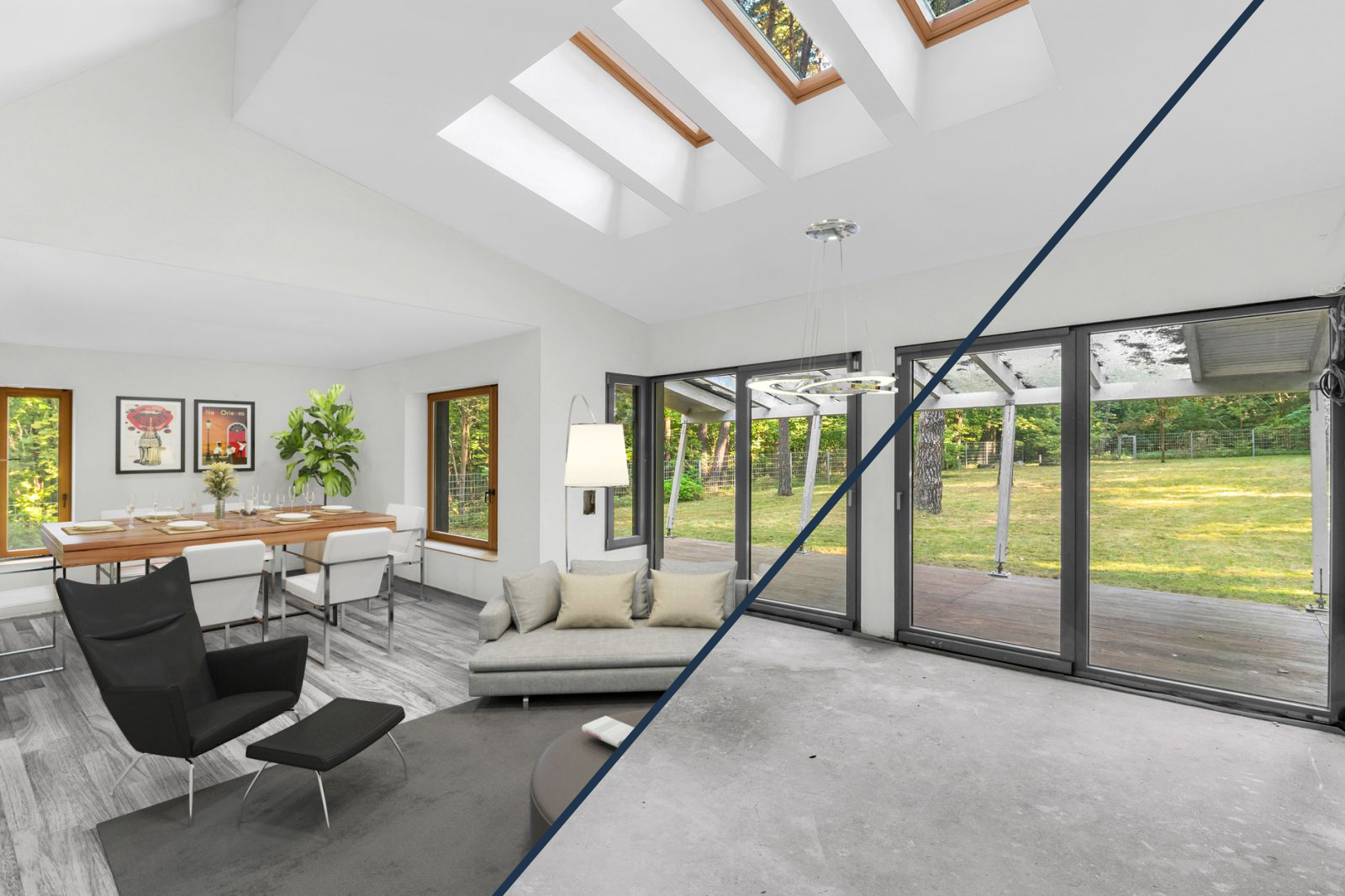 Are you trying to make your property stand out from the competition?
For those considering taking their real estate marketing efforts to the next level, virtual staging could be just the ticket. In today's extremely competitive real estate market, it is increasingly important for a listing to stand out from other similar properties and attract potential buyers in a meaningful way. Virtual staging presents an ideal opportunity to upgrade your property photos with added features such as furniture, art, and décor at an incredibly cost-effective price point compared to physical staging services. In this blog you will find Top 3 reasons to use virtual staging.
Virtual staging allows you to utilize 3D models of furniture and other home décor that can be virtually placed anywhere in a photographed space. By utilizing virtual staging you are providing the opportunity to better showcase your real estate listings online.
1. Cost effective
– Virtual staging is cost effective with no furniture or real staging required onsite.
– No need to wait for real furniture to arrive.
– No worry about moving and rearranging existing pieces.
– Saves time and energy while easily finding the perfect composition without lifting a finger.
– No longer having to hire furniture or accessories in order to stage a real estate listing. This work is done for you through digital tools and software.
– Additionally, it's also very efficient. Since once the photos are taken, adjusting the styling can be done almost instantly with virtual staging.
2. Limitless design options
Another huge benefit of virtual staging – it allows limitless design options. Designing a space can be daunting when you're feeling overwhelmed by options and restraint by budget. But with virtual staging, the possibilities are limitless! It gives you complete control over how you showcase a particular property. Virtual staging also enables you to cater your presentation to the target buyer's tastes.
When it comes to designing your virtual spaces, the possibilities are endless. With virtual staging, you can bring your interior design dreams to life quickly and affordably. By combining contemporary designs with classic touches, you will be able to create unique and inviting looks that reflect your clients' style and taste. Whether you're looking for a bold statement piece or an entire room refresh – virtual staging has something for everyone.
3. Helps buyers visualize potential
Are you looking for ways to help potential homebuyers visualize the potential in a property? Virtual staging is an effective and efficient way to do just that! This type of visualization utilizes computer-generated images and furniture to transform any bare listing into a stunningly designed living space, making it easier for buyers to picture their future home. Using virtual staging can help turn your prospective buyers' attention from overlooked spaces and retail value into actual emotion – one of excitement as they begin envisioning their ideal place.
Whether it's adding coziness to an empty room, or showing how artwork can bring life to wall space, virtual staging could be the perfect solution. Virtual staging offers many advantages and is a great way to show buyers exactly what they have been searching for in their dream home—without ever having to move actual furniture.
Virtual staging could be exactly what you need!
Home staging is becoming increasingly popular among real estate agents as a powerful tool to help maximize the value of their listings. Virtual staging adds another layer to this by giving real estate photographers an edge when taking real estate photos.
If you're on the fence about whether or not virtual staging is right for your business, remember that it:
1) Saves time and money;
2) Helps buyers visualize potential;
3) Gives you an edge over the competition.
But these are only top 3 reasons to use virtual staging, there are a lot of more! Still not convinced that virtual staging is right for your business? Contact us and we'll be happy to chat with you about how you can use virtual staging to grow your business. In the meantime, don't forget to check out our other blog posts for more great tips on marketing your home.
Share This Post on Your favorite platform!